Os móveis dessa marca são feitos a partir de peças e tábuas de madeira extraídas de antigas construções. São madeiras nobres e muito duráveis, por isso eram utilizadas em larga escala no passado.

Durante a imersão do projeto percebemos que essas peças de madeira que ao longo dos anos foram parte de algo, tinham uma história para contar.

Aí então ganhamos a inspiração para o nome: o respeito pela idade e história de cada peça de madeira.
Uma das maneiras de tratar com respeito uma pessoa é usar o pronome de tratamento senhor ou senhora. Ao anteceder qualquer nome este pronome 'senhora' nos faz pensar espontaneamente em alguém importante, não é? Não é qualquer madeira, é uma Senhora Madeira. Esse nome também nos sugere rusticidade através da palavra madeira, um aspecto comum no estilo dos móveis da marca.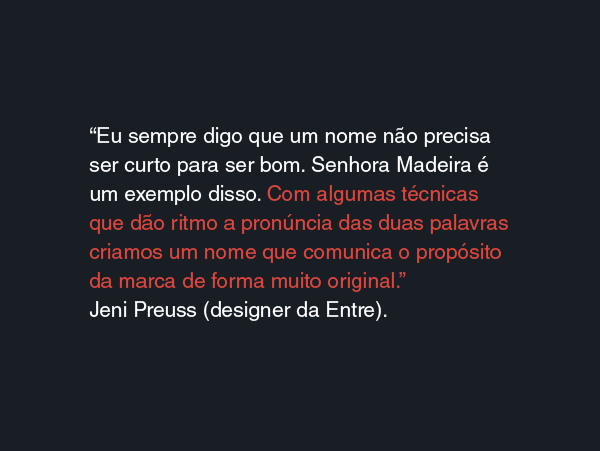 Senhora Madeira é um nome composto por duas palavras trissílabas e paroxítonas (tem a penúltima sílaba tônica). Além disso ambas terminam com a vogal 'a'.
This brand of furnitures made its pieces in wooden planks extracted from old buildings. They are noble and very durable woods used on a large scale in the past. During the immersion of the project we realized that these pieces of wood that over the years were part of something had a story to tell. Then we got the inspiration for the name: respect for the age and history of each piece of wood. One way to treat a person with respect is to use the treatment pronoun Mister or Mistress. By preceding any name this pronoun 'Mistress' makes us spontaneously think of someone important, so the name created was "Senhora Madeira" (Mistress Wood). This name also suggests rusticity through the word wood, a common feature in the furnitures of the brand. "I always say a name doesn't have to be short to be good. "Senhora Madeira" is an example of that. With some techniques that give the pronouncy of the two words a rhythm we create a name that communicates the purpose of the brand in a very original way." Jeni Preuss (designer from ENTRE). "Senhora Madeira" is a name composed of two words trisyllables and in addition both end with the vowel 'a'.